 SCO News
June 6, 2014 / SCO News
Major thanks to Deloitte for choosing two SCO program locations as sites for IMPACT Day 2014! 40 Deloitte and SCO staffers joined forces to beautify our Bedford-Stuyvesant community garden outside of MS 35 and our Ottilie campus in Briarwood, Queens. A dozen employees from Target in Levittown painted…
Read More
---
June 2, 2014 / SCO News
The Trusty Amigos Pet Care Cooperative – New York City's newest worker co-op – is officially launching its citywide dog walking and pet care service, starting with a meet-and-greet with the cooperative members from 2-4 p.m. on Saturday, June 7, 2014 at the flagpole in Sunset Park closest to the entrance at 41st and 6th Ave. The cooperative welcomes the public to stop by, ask questions, get information about rates and services, and enjoy refreshments. Dogs from Sean Casey shelter will be available for adoption during the event.
Read More
---
June 1, 2014 / Independent Youth News
In a specially arranged visit to Google's NYC headquarters, Madonna Heights students had the chance to learn about branding, technology and innovation. The young women participated in interactive workshops with Google staffers and ate lunch with Google executives and engineers. Next stop, Silicon Valley!…
Read More
---
May 29, 2014 / SCO News
The New York City Council honored Center for Family Life on May 29, 2014 with a proclamation recognizing CFL for its outstanding work supporting worker cooperatives in New York City. Vanessa Bransburg, Director of Cooperative Development and Julia Jean-Francois, Co-Director of Center for Family Life represented CFL in a ceremony recognizing nonprofit organizations that are leading NYC's cooperative business development movement.
Read More
---
May 20, 2014 / SCO News
"My purpose is to help guide these girls to become productive citizens. I introduce them as my Godchildren because God gave me this purpose," says SCO Foster Parent Bernice Bolden. Bernice has opened her home to foster children for over 20 years. She fosters teenage girls because she knows what a young girl goes through, having lost her own mother at age nine. Five girls currently live with Bernice, or "Momma B." as they call her, and she brings love, stability and a sense of family for all in her care. She also works with SCO to train new foster parents – teaching them how to deal with different age groups, different situations and teaming with birth parents to raise a child.
Read More
---
May 16, 2014 / SCO News
Longtime volunteers Laura Gay and Jean Simensky of Locust Valley, Long Island were honored at SCO Family of Services' annual Fashion Show at Nassau Country Club in Glen Cove, LI on May 7, 2014.
Read More
---
May 16, 2014 / Independent Youth News
In her last year of high school, Bushwick senior Lataysha Moore excelled, despite having to cope with a lot more than the usual hurdles involved in graduating and getting into college. In recognition of her achievements, Lataysha was awarded the Pat Brown Scholarship at SCO's Fashion Show benefit on May 7th. The annual scholarship is given to a young person in an SCO program who has overcome obstacles to achieve academic success.
Read More
---
May 14, 2014 / Independent Youth News
"Life Lines" Community Arts Project was proud to present this year's original production, "DREAMS" during the week of May 12 – May 16, 2014, with six performances at Sunset Park High School. Our cast of 150+ participants includes students from Sunset Park High School, MS 821, MS 136, as well as from other Brooklyn middle and high schools. "DREAMS" provides a glimpse into the lives of 16 teenagers and parents as they follow their hearts and explore their innermost hopes, despite the obstacles standing in their way.
Read More
---
May 13, 2014 / SCO News
SCO's 25th Annual SCO Fashion Show benefit drew nearly 400 supporters at the Nassau Country Club in Glen Cove on May 7.  SCO used the opportunity to honor Lataysha Moore, an intrepid Brooklyn high school senior living in a homeless shelter, and longtime volunteers Laura Gay and Jean Simensky. The benefit raised funds to help SCO provide life-changing results for more than 60,000 people each year at over 110 locations throughout New York City and Long Island.
Read More
---
May 8, 2014 / SCO News
SCO/Center for Family Life's 2014 Gala Fundraiser & Cocktail Party was a great success! The smell of chocolate led supporters through the Brooklyn Army Terminal and into the magnificent Jacques Torres Chocolate Factory, where we celebrated the spirit of entrepreneurship, leadership and community development. We honored five individuals with our "Celebrating Community" Award: Cooperatives United for Sunset Park (represented by Sara Castillo, Elvira Rojas, Yuri Sanchez, and Monica Valerio) and Jacques Torres, individuals whose success as immigrant entrepreneurs has lead our neighborhood's economic revival and inspired its residents to believe that they, too, can "make it in Sunset Park."
Read More
---
May 8, 2014 / SCO News
Julia Jean-Francois (SCO's Center for Family Life, Sunset Park), Rick Gallwey (SCO's Family Dynamics Program, Bed-Stuy), Shijuade Kadree (Staff Attorney, Brooklyn Defender Services – Family Defense Practice), Gittel Kagan-Follman (Director of Social Work, Brooklyn Defender Services – Family Defense Practice) discuss foster care in Brooklyn. Original air date:…
Read More
---
May 5, 2014 / SCO News
SCO Family of Services celebrated the latest graduates of the NYC Nurse-Family Partnership program in a graduation ceremony April 30, 2014. Congratulations to the families, nurses and staff! Nurse-Family Partnership is a nationally recognized, evidence-based program for first-time mothers. Registered nurses provide in-home visits for expectant mothers during the early stages of pregnancy through the child's second birthday, offering the counseling and support needed to deliver healthy babies and become good parents. 
Read More
---
May 2, 2014 / Independent Youth News
The 4th Annual SCO Family Dynamics Art Auction was a huge success! Thanks to our wonderful supporters and all the artists who donated their work, last night's benefit raised a record amount and will help us to expand after-school arts programming in Bedford-Stuyvesant, Bushwick and Brownsville. Thanks, everyone!
Read More
---
April 28, 2014 / Independent Youth News
The Wall Street Journal By MELANIE GRAYCE WEST April 27, 2014 9:31 p.m. ET Everything good about an arts education for children—fueling personal expression, improving cognitive development and having fun—is what Alexandra Alger wanted for her own children. Turns out, she also wanted it for children living just a few miles from her in the Bedford-Stuyvesant section of Brooklyn. About six years ago, a friend encouraged Ms. Alger to check out the after-school programming provided by Family Dynamics, an initiative of the SCO Family of Services, a Brooklyn-based organization that provides a variety of social and occupational services to help some of Brooklyn's neediest people.
Read More
---
April 24, 2014 / Uncategorized
Read More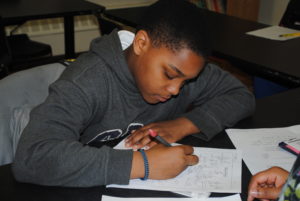 Children in our NYC shelters had a
96%
attendance rate at NYC DOE schools
We shelter
5,200
youth, adults and children