 SCO News
March 17, 2020 / Independent Youth News
Irish eyes were smiling as friends of SCO gathered for Sioban's Ceilidh, a reception in memory and honor of longtime SCO employee Sioban Rack, to benefit SCO's Career Readiness Initiative. Ginnie Treiber, Laura Gay, and Grace Del Gadio served as event Co-Chairs. The Irish themed benefit was held March 11th…
Read More
---
June 18, 2018 / Independent Youth News
Dix Hills, NY  Friends of SCO Family of Services' Madonna Heights programs teed up June 7th for the 38th Annual Madonna Heights Golf Classic at the Woodside Club in Muttontown, Long Island, raising a record $89,000 to support the vital work of Madonna Heights to teach, strengthen and…
Read More
---
June 5, 2018 / Independent Youth News
Queens, NY  Young men in our family foster care and residential programs honed their court skills recently at a basketball clinic hosted at our Ottilie gym and run by current and former professional basketball players. There was a mentorship component as well as players and youth shared past experiences and…
Read More
---
June 1, 2018 / Independent Youth News
Brooklyn, NY  More than 125 local art, wine and design lovers gathered at the Lightbox in Manhattan April 23rd for the 8th Annual SCO Family Dynamics Art, Wine & Design Auction to raise awareness and funds for community-based family and after school programs in Central Brooklyn. The evening's silent and live…
Read More
---
May 25, 2018 / Independent Youth News
May 25, 2018 – Queens, NY  Young men in our family foster care and residential programs honed their court skills recently at a basketball clinic hosted at our Ottilie gym and run by current and former professional basketball players. There was a mentorship component as well as players and youth…
Read More
---
April 26, 2018 / Independent Youth News
SCO introduced an innovative mentoring program that pairs current young people in foster care with mentors who share similar experiences, as former foster youth.  The year-long program culminated in a farewell dinner that was documented by Represent Magazine.  Read the full story…
Read More
---
February 1, 2018 / Independent Youth News
February 1, 2018 – Glen Cove, NY – SCO Family of Services has received funding from the New York City Department of Youth and Community Development to open Independence Inn VII, a transitional independent living residence for runaway and homeless teen/young adult mothers and their children. SCO will also provide…
Read More
---
December 8, 2017 / Independent Youth News
November 9, 2017 – New York, NY – SCO's Close to Home (C2H) program was recognized for successfully completing the "candidacy" period of Performance-based Standards (PbS) at an awards banquet held by the NYC Administration for Children's Services Division of Youth & Family Development. Performance–based Standards (PbS) is a data-driven…
Read More
---
July 7, 2017 / Independent Youth News
June 30, 2017 - Glen Cove, NY - Graduations, Award Ceremonies, End-of-Year Performances…there was much to celebrate at SCO as the school year came to a close! Here are a few highlights:
Read More
---
June 29, 2017 / Independent Youth News
Dix Hills, NY  – Friends of SCO Family of Services' Madonna Heights programs teed up June 19th for the 37th Annual Madonna Heights Golf Classic in Syosset, Long Island. The event, held at the Woodside Club, raised funds to support the vital work of Madonna Heights to teach, strengthen and empower young and adult women to heal from trauma.
Read More
---
April 18, 2017 / Independent Youth News
April 18, 2017 - Manhattan, NY - SCO Family of Services is proud to announce that Holly Brickey, a Senior Caseworker in SCO's Close to Home Program, has been recognized by New York Nonprofit Media as a Front Line Hero.
Read More
---
March 23, 2017 / Independent Youth News
March 23, 2017 – Brooklyn, NY   Students from our Family Dynamics East New York Middle School of Excellence (ENYMSE) After School Program have been participating in a leadership series, "Love Thy Self," designed to build confidence and foster self-expression while developing connections with peers and staff.  The theme for this…
Read More
---
July 26, 2016 / Independent Youth News
SCO has recently opened the Young Adult Workforce Program for young men and women, ages 18-21 who are currently incarcerated at Rikers Island. Run in partnership with the NYC Dept. of Correction and with funding from the NYC Dept. of Education, the goal is to work with the young people both…
Read More
---
July 25, 2016 / Independent Youth News
CONGRATULATIONS!!! The past month was filled with graduations and moving up ceremonies throughout SCO as students received diplomas, awards and certificates in recognition of their amazing achievements!  Here are highlights from just a few of our programs:
Read More
---
January 28, 2016 / Independent Youth News
SCO is proud to announce that Mayor Bill de Blasio recently appointed SCO Executive Director Doug O'Dell to the newly created NYC Children's Cabinet Advisory Board. The Advisory Board offers valuable non-governmental expertise, relationships and resources to the City agencies that make up the Children's Cabinet, in order to help NYC best promote and protect children's wellbeing. Members of the Board include appointees from all five boroughs in academia, faith, media, business, technology, the non-profit sector and the judiciary. In announcing the Advisory Board members, the de Blasio administration recognized Doug for bringing the following expertise: Douglas O'Dell is the Executive Director of SCO Family of Services where he has served in various other roles during his 24 years at the organization. He is an expert in the field of services to vulnerable populations of children, families and adults. During his time at SCO, he created SCO's alternative to detention and placement programs serving court-involved youth in their homes with family-based therapy and community-based residences. He also launched the agency's Family Therapy Intervention Pilot which promotes families' acceptance of their LGBTQ children and provides services to reduce negative risk factors experienced by LGBTQ youth. Read the full press release below.
Read More
Last year, we helped
418
adults become employed heads of households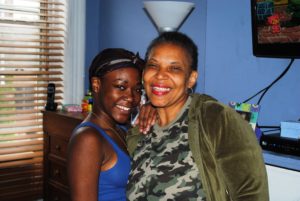 We help
1,400
children and young adults through foster care programs