 SCO News
August 26, 2022 / SCO News
(This story originally posted on Nurse-Family Partnership's Newslink September 2022 edition.) In June, the National Service Office (NSO) for Nurse-Family Partnership ® and Child First participated in our first Policy and Advocacy Summit in Washington D.C. to advocate for the timely reauthorization of the Maternal, Infant, and…
Read More
---
August 18, 2022 / SCO News
SCO Chief Program Officer Jennifer Outlaw has been appointed to the Nassau County Advisory Council on People with Disabilities. The Council reviews county policies, procedures, practices and programs, and recommends legislation. It advises the County Executive and the Legislature about funding priorities and capital projects that address the needs of…
Read More
---
July 14, 2022 / Independent Youth News
SCO Family of Services recently began a new Jail-Based Program that provides intensive programming services for justice-impacted people who are currently in New York City Department of Corrections custody. The goal of the program is to reduce challenging behavior and recidivism by providing skill development, transition planning referrals, and…
Read More
---
July 14, 2022 / Independent Youth News
Hearts to Homes provides home furnishings and essentials to newly independent young adults who have just aged out of foster care. Hearts to Homes has helped many of our SCO youth, including Zanaya, who sent them a Thank You letter in appreciation. Dear Heart to Homes, I am so grateful…
Read More
---
July 13, 2022 / SCO News
SCO President & CEO Keith Little has been elected Chair of the Executive Committee of the Coalition for Behavioral Health's Board of Directors. The Coalition for Behavioral Health serves New York's behavioral health community by providing policy, advocacy, training and technical assistance to more than 100 community-based behavioral health providers.
Read More
---
July 13, 2022 / SCO News
Hooray for our Gold Medalist! We're proud to announce that Robert, a resident of one of our Individualized Residential Alternatives, won a gold medal in hockey with his team, the Manhattan Flames, in the recent 2022 Special Olympics tournament held in Syracuse, NY. In addition to the team…
Read More
---
July 13, 2022 / Independent Youth News
SCO Family of Services received a grant from Webster Bank that will allow the expansion of our Mentored Internship Program (MIP) and provide financial literacy workshops to youth in foster care. SCO's Mentored Internship Program provides work experience and career development opportunities for transition age youth in foster care.
Read More
---
July 12, 2022 / Independent Youth News
Youth from our Queens Close to Home program recently attended CUNY Freedom Prep, an English Literacy program designed for court-involved young people ages 16-24. The 6-week initiative was sponsored by CUNY's College Now Program at LaGuardia College. Youth in SCO's Close to Home program attend Belmont Passages Academy. Those who…
Read More
---
July 12, 2022 / SCO News
New York, NY, July 11, 2022 – SCO Family of Services supporters and staff gathered for SCO's Speakeasy – Casino Night at the Mutual of America Building in New York City, raising $195,000 to support New York youth and families. The focus of the Speakeasy-themed event was "Unlocking Potential for…
Read More
---
June 29, 2022 / SCO News
We're so proud of all of our graduates, big and small, for achieving another milestone in their journeys. CONGRATULATIONS, GRADS! Video: Long Island City Early Childhood Center Stepping Up Ceremony…
Read More
---
June 24, 2022 / Madonna Heights News
DIX HILLS, NY – Over 170 supporters came out for SCO Family of Services' Madonna Heights Golf Classic at the Woodside Club in Muttontown, Long Island. This year's event raised a record $200,000 to support the vital work of Madonna Heights to teach, strengthen, and empower young and adult women…
Read More
---
June 21, 2022 / Independent Youth News
Maurice, a youth in SCO's Close to Home program, loves to express himself through his writing. Close to Home is a network of residences for 13-17 year-olds involved in the juvenile justice system that provide counseling, structure, education, skill-building and connection to family. Maurice recently entered a contest through the Prison…
Read More
---
June 16, 2022 / Madonna Heights News
SCO Family of Services' Madonna Heights programs held their 3rd annual on-campus Pride Parade on June 9th, hosted and organized by Madonna Heights Residential Treatment Facility Family Peer Advocate Denise Delio. Youth and staff from Westbrook Preparatory School and Deer Park Community Residence participated this year as well as guests…
Read More
---
June 15, 2022 / SCO News
In January 2021, two SCO Family of Services employees decided to return to school to further their education. In January 2022, Nichelle Strickland, Program Supervisor for the High Fidelity Wraparound Program, and Jennifer Whitehead, Care Manager for Northwell Health Children and Adults, graduated from Metropolitan College of New York…
Read More
---
May 31, 2022 / SCO News
We resumed our annual Staff Recognition Dinner after a two-year hiatus due to COVID-19. Staff were honored for their compassion, hard work, and dedication as they helped clients make it through the numerous hardships caused by the pandemic. Congratulations to our honorees and THANK YOU to all of our SCO…
Read More
91%
of babies in our Nurse Family Partnership were current with immunizations at 24 months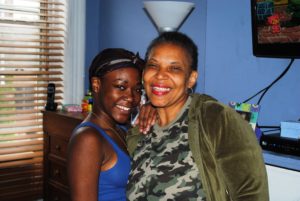 We help
1,100
children and young adults through foster care programs