 Javier Evans
Board Member
As Chief Business Operations and Services Officer at Sterling National Bank, Javier Evans leads this newly created business unit to transform Sterling's core operations supporting key lines of business that will power their growth and ultimately enhance Sterling's competitive position in the market. Focusing on efficiency, agility, and automation in the operations and service channels for Commercial & Consumer Lending, BaaS and Consumer Banking client services, Javier will help solidify Sterling as the bank of choice for its clients.
Javier oversees the creation and implementation of Business Operations and Services policies and procedures and directs functional operations including Business Process Optimization, Deposit Operations, E-PMO, Facilities and Loan Operations groups. He is also responsible for building strategic alliances with the business leaders across the bank.
Prior to this role, Javier served as Chief Human Resources Officer and has made a tremendous impact leading and transforming the HR organization, with a focus on talent and leadership management, succession planning and developing colleagues while maximizing productivity and profitability. Javier oversaw the creation and implementation of corporate Human Resources policies and procedures and directed functional operations, including compensation, colleague relations, health and welfare, payroll retirement and equity plans, and talent acquisition.
Javier has directed the Human Resources function at several companies over his 30 years working within the financial services industry, including TD Bank, National Financial Services Corporation, a Fidelity Investments company, and HSBC Bank, USA. In 2010, he was recognized and honored by the National Eagle Leadership Institute (NELI) for his work in leading the diversity initiatives at HSBC.
Javier's professional memberships include Board Member, United Cerebral Palsy, Suffolk County; Society for Human Resources Management; National Association for African Americans in Human Resources; National Black MBA Association; Trustee, Education Africa Inc.; Past President and Board Member, Rush Philanthropic Arts Foundation; and Board Director, YMCA of Long Island.
Javier earned a Master of Science at New York Institute of Technology and a Bachelor of Science at St. John's University.
Javier joined the SCO Board of Directors in 2021.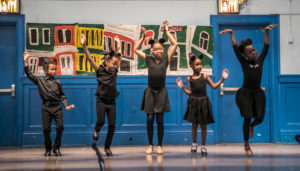 We inspire
5,400
children and teens through academic, after-school, summer and work readiness programs
95%
of women in our residential recovery program remained substance free